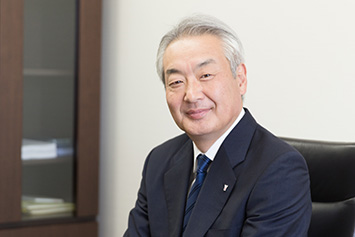 Let me extend my warm thanks to all of you for your support for our businesses.
Our company is a group of enterprises led by three core companies: NYK Trading Corporation, a commercial firm dealing in energy for vessels and onshore industries and marine equipment, NYKT Marine Co., Ltd., a provider of marine materials and ship equipment for ship owners and logistic materials, and AMCO Engineering Corporation, a provider of services for the design, installation, adjustment and maintenance of marine equipment.
In the course of providing products and services related to ships in various forms as a member of the NYK group, NYK Trading Corporation continues to take on the challenge of cultivating new areas of business such as onshore industries, control equipment for power plants, photovoltaic generation, and products and services for the food industry.
Today's innovative changes in the environment, information, and energy fields, together with the technologies supporting those changes, continue to interact in more intricate patterns both internationally and at home. Our group works with energy, equipment, and materials as an engineering trading company in this theater of rapid change. We are also striving to become a truly valued group by offering suggestions informed by communications with all of our clients.
To be a good and reliable corporate citizen, we will make ceaseless efforts to improve ourselves by offering superior quality, pricing, services, information, business ethics, and performance at every level.
We are very grateful for your ongoing support and patronage.
June, 2017
Keiji Tsuchiya
Representative Director and CEO